Home / Photo stamps / PhotoStamps.com®
We may receive a commission if you purchase a product we have featured on our site.
Disclosure
Find Out How To Create Your Own Photo Stamps Here:
---
Stamps.com®, a leader in online postage has been approved by the United States Postal Service as a provider of PC postage in 1999. Since then, they have offered some really useful solutions for home and small business mailing. One of the most fun was launched in 2004, making it the first customized postage you could buy in the United States. Now you can order stamps that celebrate an event in your life; a wedding or special anniversary, graduation, a new baby, a new home, an adorable pet.
Can I print custom postage with Photostamps.com?
Yes! Give a really personal touch to postcards, invitations, thank you notes and holiday cards. Create stamps that come from your own digital photos. You can customize them using Stamps.com®'s simple and fun interface. See a how-to video on easy it is!
These are also great for business.
Build your brand by featuring a new product, upcoming event or customize your mailing by using your own company logo. These are also really great gifts for friends or family to treasure for years in a frame or scrapbook.
These are just a novelty right, can't I just print pictures onto sticker paper?
No, these are much more than self adhesive pictures that look like stamps, they actually work as real US Postage! These are good for any domestic mailing, honored as regular postage in the denomination you purchase. They are available from 28 cent postcard stamps to 44 cent first class letter to $4.95 for mailing packages. These are not yet approved for international mail, but are honored as US postage for delivery anywhere in the US. If you are concerned (because there are imitators), make sure there is a USPS logo or look for PhotoStamps® brand to make sure your postage is genuine.
The stamps try to keep your image size as large as possible while keeping the stamp size reasonable. The image area is square 1.1 inches x1.1 inches. To give you a rough idea of the size, here is a comparison of the image display area compared with a standard U.S. quarter.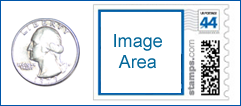 How much does Photostamps.com cost?
There are 20 PhotoStamps to a sheet and the minimum order size is one sheet. They do cost more than the amount of the postage, but the more you order, the better deal you get. They are available in high volume, with rolls of up to 10,000 stamps. Regular volume orders ship in about 3-5 business days. Rush orders can ship in as little as 1-2 business days with quicker delivery options.
Can I return or get a refund on Photo Stamps?
If you aren't satisfied with your order, you can return your items within 30 days and get your money back. Some restrictions may apply involving purchases made with gift codes.
You do not need a Stamps.com® subscription to order PhotoStamps.com
This is a stand-alone service. Images are subject to approval and you must own the rights to any image you use.
Your digital image for photo stamps has a size limit
If your file is too large you'll need to scale it down to upload it. If you don't know how to scale down an image, watch this movie and learn how to do it with ease:
---
Was this article helpful? We hope so! If it was, you might want to consider purchasing your next set of shipping supplies or stamps from Amazon.com