Getting Started:
---
Simply download and install the software
Set up your user name and password and enter your physical address and billing information
Go to the postage wizard (in the upper left)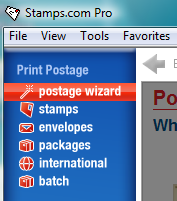 The postage wizard has an easy walk-through (below) that will get you all the way through the process.
Watch this video to see how easy this is.
Choose the type of mail you want to send
Enter the weight manually (until you get your scale)
Choose what media to print on (labels, paper, etc.) from a drop-down list
Enter the delivery address
Choose the delivery speed and cost See video about it:
*Optional: Add insurance, Certified Mail® or Registered Mail
See all the information you have entered
Print!
Stamps.com® Postage Rate Comparison:
You can even save your settings if you want to reuse them.
Using Your Digital Scale
When you receive your digital scale, simply plug it into any working USB port on your computer. The scale that comes free (you do pay S&H) with your subscription weighs items up to 5 lbs. It integrates directly to give the accurate weight of your parcel to Stamps.com® so it can calculate the exact postage costs. Should you need to ship heavier items, a 25lb scale is also available as an upgrade for purchase.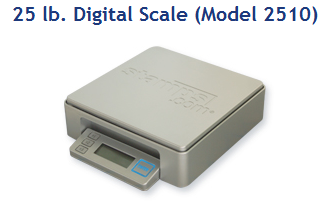 Buying More Postage
Updating your balance is easy and you can do it any time. You can always tell how much postage is in your account by looking at the bottom left corner.

Click Buy Postage
Enter the dollar amount you want to add
Confirm that amount
Watch this video to see how easy this is.
STAMPS_BUTTON