Home / Postage online / Pitney Bowes SendPro Online
We may receive a commission if you purchase a product we have featured on our site.
Disclosure
Using Pitney Bowes to Save Money On Shipping With USPS, UPS and FedEx
---
What's New vs. MailStation
Previously we reviewed the Pitney Bowes MailStation, and it was a bit overkill for most of the people that we reach on our site. However, they recently launched their new Pitney Bowes SendPro Online product and we wanted to give it a shot.
The Changes
Unlike before, you don't receive a dedicated printing station that requires special ink cartridges and includes a built-in scale for printing postage for many different envelopes or packages. Instead, it is all web-based (and requires an internet connection), which enables you to use a standard printer and paper along with a regular computer.
This is certainly much easier - and less expensive - than before. They also come in a bit cheaper than Stamps.com, though make sure to check out all the Features so you know which is right for you long-run.
How to Get Started with SendPro Online
Signing Up
The sign-up process is relatively easy to do for Pitney Bowes. First you need to go to Pitney Bowes and choose the type of service you want.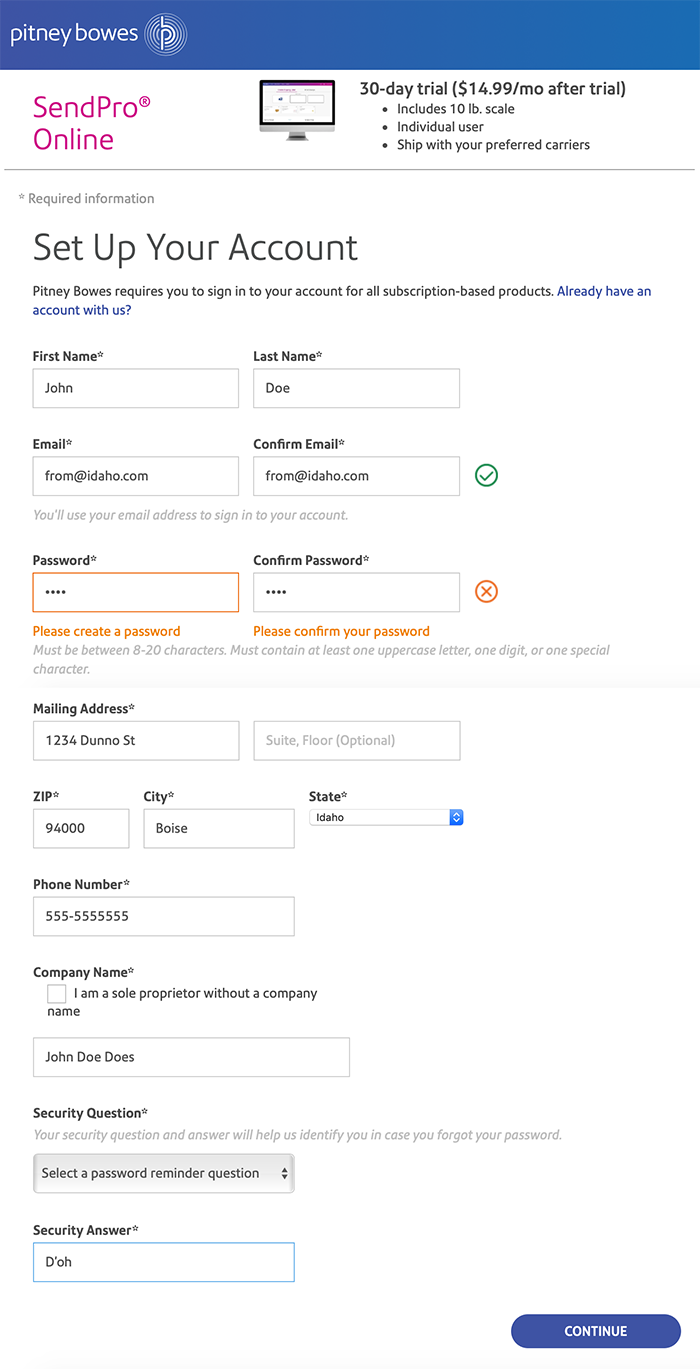 Pricing
The standard, basic plan is $4.99/month to subscribe to and offers you USPS postage only. However, if you sign up for the premium plan at $14.99/month, you can also use UPS and FedEx as well but you must already have a FedEx or UPS account to print a label. (You can read more about this in the Features section)
However, as you go to enter your payment method, they tell you about something interesting called "Purchase Power", where they extend you credit for your purchases and bill you at the end of the month. However, Purchase Power requires a credit check so bear that in mind before hitting submit. Instead, if you choose to use your credit card on a pay-as-you-go basis, you have to pay an additional 3.5% on top of all your postage but this won't be an issue for most users.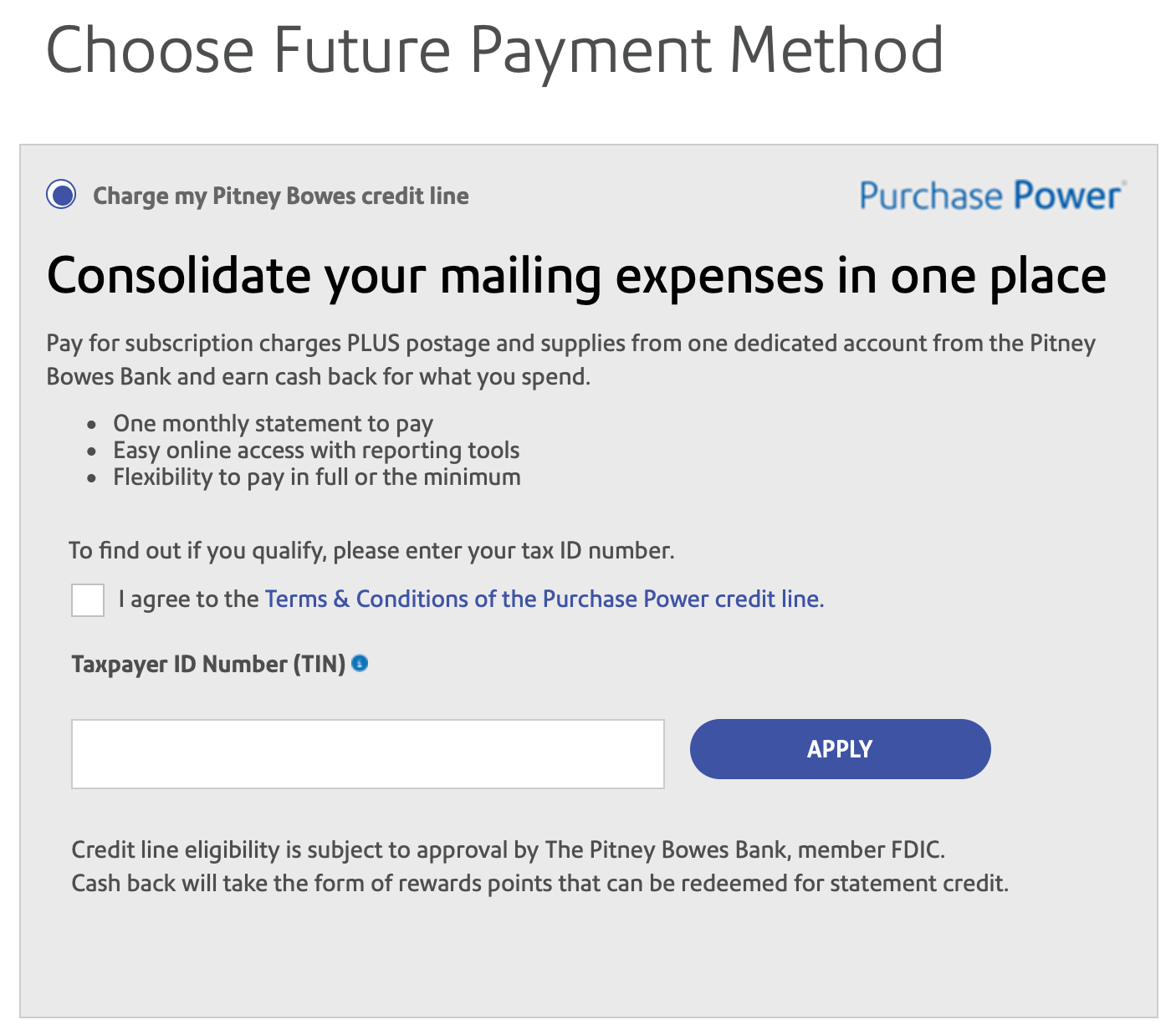 We recommend sticking with the pay-as-you-go option and signing up normally. Once you've done so, they'll send you a 10lb postage scale for free and you're ready to start printing postage!
SendPro Online Features
Starting at $4.99/month
This is a pretty compelling reason for many people - the price per month is significantly lower than competitors for the most basic version.
Free 10lb Capacity Scale
Pretty self explanatory - you get a free 10lb scale shipped to you when you sign up. It's actually rather useful and better than the one from Stamps.com.
Print labels from USPS, UPS and FedEx
Yep, Pitney Bowes has a feature that Stamps.com doesn't have! In this instance, you can compare prices and print labels from UPS and FedEx as well as USPS. However, there's a catch.
In order to print labels from UPS and FedEx, you have to go through the process of setting up an account with each, getting payment methods entered and making sure you have a large enough account balance to account for your shipping, as you can't purchase additional shipping directly through Pitney's web site.
Also, this feature costs an additional $10/month.
While being able to do shipping labels from all three is nice in theory, the reality is that only business users of Pitney Bowes with hundreds of packages a month will need this feature. So it is useful and well thought out, but not absolutely necessary for most users.
Purchase Power Credit Line
So you can actually apply for and receive within seconds a credit line for your business (or you personally) if you'd like to have a single bill at the end of the month and.
Pitney Bowes has teamed up with Purchase Power to go ahead and offer this credit line, but it comes with a set of terms so make sure you read them before agreeing.
If you choose to forego this option, you're hit with an additional 3.5% charge on all of your postage that you buy, but this doesn't really add up to much for most small business users.
Having a single shipping bill at the end of the month is really nice, but unless you ship a lot per month it isn't really worth it.
Printing Actual Stamps & Postage
You can print stamps on envelopes directly one-by-one, which is quite useful.
In order to print stamps on envelopes, you have to (a) download the SendPro software and (b) use their special order stamp-sheets if you want to print in bulk.
Adding a new app is sort of a pain but not a dealbreaker, though having to use special-order stamp sheets isn't worth it.
Our Final Thoughts on SendPro Online
So, we've gone through how to sign up, the features and drawbacks and now we're at the end. What do we think?
Pitney Bowes SendPro Online is a very nice service indeed, with several good features
It also can save you a few $/month if you use the basic version so some people with the smallest shipping needs may find it useful. This makes it a good choice for very low-volume senders looking to save.
---
Was this article helpful? We hope so! If it was, you might want to consider purchasing your next set of shipping supplies or stamps from Amazon.com